***Warning, this post will get into some graphic descriptions of surgery, so if you have a weak stomach, you may want to steer clear of the text that is in blue. I am also including graphic photos at the end of Lil Bug after one of her surgeries***
On Monday Bug had her annual checkup with her neurosurgeon. These appointments are always a little nerve wracking. Last year we thought we were going to get a "thumbs-up" review during her exam and we were informed that she would be having a shunt revision within a couple of weeks. We were shocked because she hadn't exhibited any symptoms of shunt failure. Even so, the dr. felt it was important enough to do a revision before it got bad and caused damage. It didn't really "fail" per se, but she outgrew it.
Anyway, her appointment on Monday was just a regular checkup...nothing to be worried about. With regards to her shunt and head size, it went very well. He was VERY pleased with her progress, her growth, the shunt. He was, however, not very excited about the asymmetry in her face.
I can't recall if I ever wrote about it here or not, but when Bug was 9 months old she had craniofacial reconstructive surgery. The surgery was required because when she was born two plates in her skull were prefused together and not allowing her brain to grow properly. Sadly, it was not noticed immediately at birth and the neurosurgeon placed her shunt on the same side of her skull, so when it came time for the reconstruction, it was VERY complicated. The surgery lasted 13 hours total and was by far the worst thing The Designer and I have ever had to endure as parents thus far.
For Bug, the surgery required cutting her head open from one ear, over the top of her head to the other ear. They cut in a zig-zag pattern so that when her hair grew back, it would blend together rather than forcing a part. You can still see the scar on the top, center of of head pretty clearly, but the rest of it is basically hidden by her hair.
After they cut open the skin, they removed the skull from her brain. They then broke the skull down into small pieces and tediously reshaped it with plates and screws and reattached it to her head.
Since this surgery is not related to people with Spina Bifida or shunts, it is VERY rare that someone would have both. Due to that fact, the dr.'s were not certain if it would be a success or not.
So, here is the good news and the bad news. That surgery was performed almost 3 years ago and her head has grown right on schedule ever since. So, in that sense, it was a huge success. Now for the bad news...it did not hold its shape as they had hoped and her face is very asymmetrical. Aesthetically speaking, she is very unbalanced.
As her mother, I can see the asymmetry fairly easily, but at the same time, I don't really notice it at all. I am sure others pick up on it immediately, but fortunately people don't ask about it.
So, the neurosurgeon is requesting that we set up an appointment with a plastic surgeon (can't be the same one as he no longer works with pediatrics) and get an opinion on what could/should be done for Bug.
We haven't spoken to the plastic surgeon yet, so we are not sure what he will suggest, but we have been thinking a lot about the possibilities of what he may suggest. If he were to suggest that Bug have the reconstructive surgery again, I honestly don't know what we would do.
The right choice may seem very obvious to some, but let me explain our dilemma.
On the one hand, if it is purely cosmetic, The Designer and I have no desire whatsoever to put Bug in that kind of risk again. When she had the surgery the first time, she had an inexplicable fever that the dr.'s were beginning to fear was a brain infection and in case you don't know...that would be VERY, VERY BAD! We love Bug just the way she is and we think she is one of the most perfect, most beautiful little girls to ever exist. We have no desire at all to change her appearance if it is not medically necessary (as it was the first time).
On the other hand, Bug will be attending a traditional school, in a regular classroom and she is already facing a more challenges than her future classmates will. She will most likely get picked on for having a walker (or crutches) and for wearing glasses and all the other stupid stuff kids pick on other kids for. If she is extremely asymmetrical, that is just one more thing for kids to notice and be cruel about. Also, will she become a teenager and be mad at us for not considering her feelings when we made the choice we made for her. At some point down the road, would she be disappointed that we didn't "help" her out when we had the chance?
So, I am trying to think about what The Designer and I want and what Lil Bug may or may not want some day.
All of this thinking is really pointless at this point as we don't even have an official appointment with a plastic surgeon yet!
For the full effect, here are a few pictures of Bug after her craniofacial surgery in June 2005.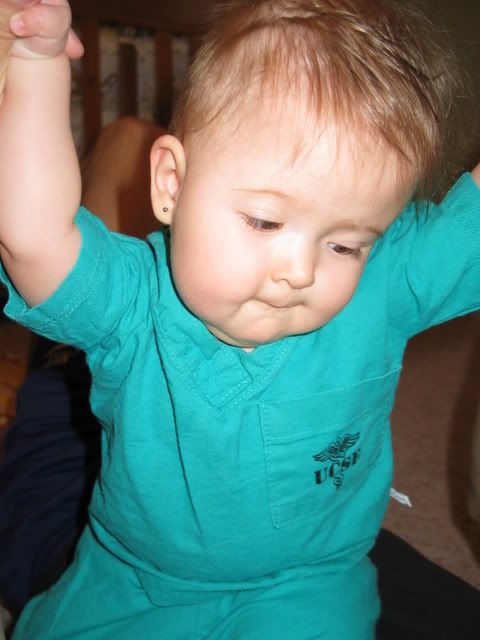 This is the morning we went into the hospital, which is the day before her surgery. We figured scrubs were comfy and ideal for this situation.
We knew they were going to shave her head and in order to feel like we had some control, some say, I opted to cut her baby hair myself so that I could have some to keep for her.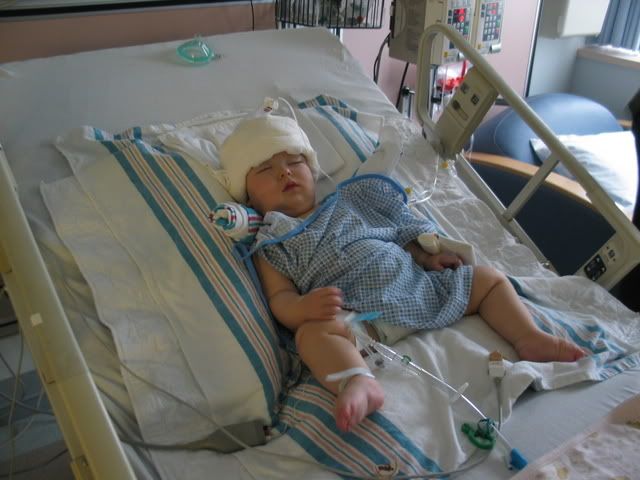 Here she is immediately after she came out of recovery.
Even after this, she smiles!
You can see the scope of the incision from this perspective.
About 24 hours after her surgery her eyes began to swell shut. They stayed that way for a couple of days. She was so courageous! She couldn't see me, but when she heard me talk, she would flash me her beautiful smile. She is such a blessing! God is SO good to us!
She really didn't like her pink helmet, but dealt with it well...and once again, still smiling (and playing!) only 2 days after major reconstructive/brain surgery.
Is it clear to see why we are head over heels, madly in love with this incredible little person? I feel like the luckiest mommy in the whole world and I literally thank God daily for choosing me to be Lil Bug and Lil Princess' mommy!!!!!