Last Friday Bug, Princess, my mom and I loaded up the Murano and drove down to Chicago. We went there for the purpose of meeting some of my adoption board buddies. In addition, we planned some other fun things to do.
Princess is NOT a good car traveler. In fact, she hates it so much that she screams until she throws up (I know, not a good picture!). So, when we made it all the way to Chicago (about a 3.5 hour drive) on Friday with no vomit, we were elated! We spent the day at Navy Pier and then went and played at Dave & Busters. It was late when we left there and headed for our hotel. Apparently the last 30 minutes in the car was just too much and she screamed until she got sick all over everything. Bug was so tired that she fell asleep on the way and after listening to Princess cry for a good period of time I looked back and saw that she was plugging her ears in her sleep. Then, after much frustration, she muttered, "will you please give that kid a bottle?" Again, while still asleep. My mom and I were very amused.
Princess slept TERRIBLE on Friday night. She was awake at least once an hour and most hours she was up 2-3 times. By morning I was delirious. We got our goodies packed up and headed over to Joy's house for the first annual AT get together. It was a great time and I was able to meet (in person) many of the ladies I chat with online and their beautiful babies. There were 5 adopted babies in all and 2 more children. If Princess was feeling better and more social, it would have been a better experience, but we still had fun. Bug made friends with Jane (age 7) and they played great!
After another sleepless night in Chicago we took it easy Sunday morning. Later in the day we headed over to visit with my sister and my two nieces. I haven't seen them since last summer and it was their first time meeting Princess. The girls really enjoyed playing with their cousins! It was nice to see Brenda too. We aren't super close (ok, who am I kidding? We aren't close at all!) but it is still nice to see her.
Sunday night my mom took on Princess duty and although we were all staying in the same small hotel room, I was able to get a tiny bit more sleep, which did wonders for me. We took the girls swimming at the hotel pool and then packed up and headed out. About 1.5 hours into our journey home Princess woke up and coincidentally we were right by Michigan City, which has a large outlet mall so, we HAD to stop and shop. A couple of hours and a few bargains later we buckled back into the car and headed home. We arrived back in Grand Rapids around 9pm.
This morning I got the girls all cleaned up and dressed and we headed to the medi-center (the pediatrician was on vacation today) and 3 hours later we had a diagnosis of yet another double ear infection. This is the third one Princess has had in as many months. But, we have drugs, so she should begin feeling better real soon.
Princes and Jack...aren't they cute? Look at how they are holding hands!
These are the AT girls...Jane, Bug, Princess and Edith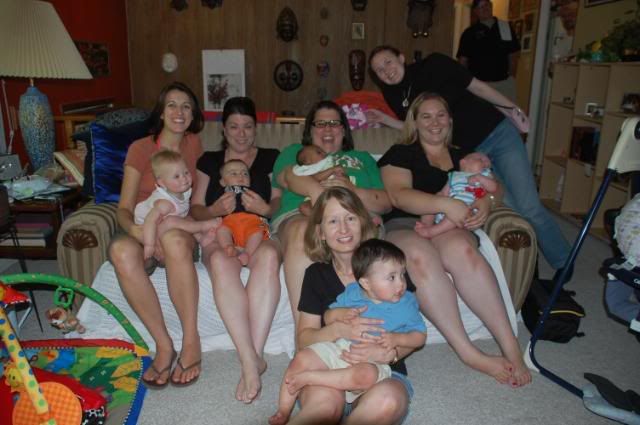 Here are the AT girls and the babes.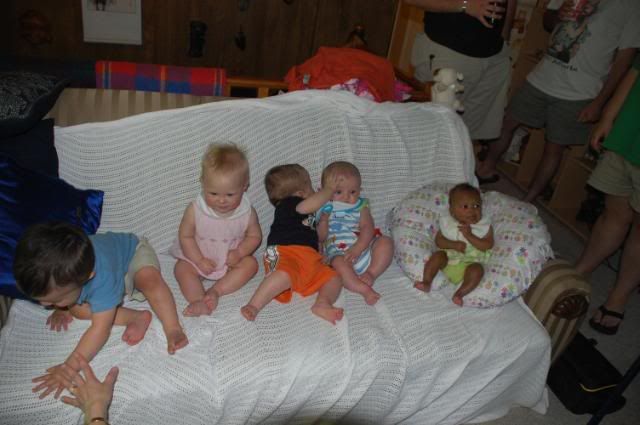 The babies!!! Oh so yummy and cute!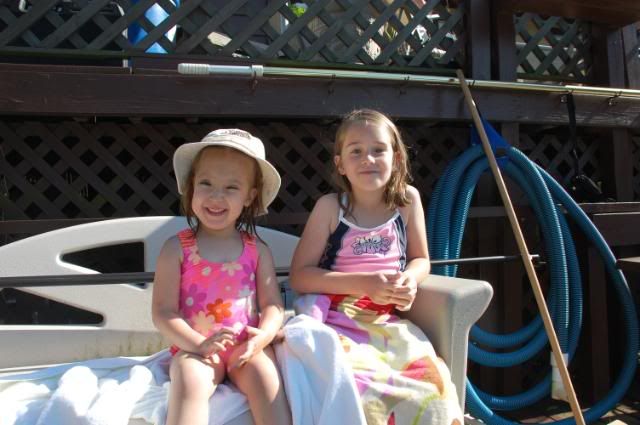 Bug and her buddy, Jane