Last weekend we spent some time with The Designers family. We had a good time.
There were nine of us this year...last year there were only 7. Our family has been blessed and we have added 2 more little people to the mix in just 1 year...so fun! The Designers brother and his wife and 2 month old son were there. The Designers parents were there and, of course, our whole family including The Designer, Lil Bug, Lil Princess and myself. Two of the nine were under 2 months old...that made for some interesting moments. :)
The cabin that we all agreed on to rent this year was nice. It was rather small for the number of people, but the location is hard to beat. It was right on the Muskegon River, which came in handy for the guys who like to fish...they would just go outside and they were literally on the river fly-fishing.
We spent the whole weekend laying around and relaxing. Last year we went canoeing and tubing, but this year we had two little people to take care of and we didn't want to leave anyone out, so we just hung out around the cabin. The first full day we were there every single one of us stayed in our pajamas all day...no lie! Rest assured, we did shower and get dressed for the remainder of the weekend.
It was fun for The Designers parents because this was an opportunity for them to get to know their two youngest grandchildren better. They spent quality time with both Lil Princess and C.
Lil Bug celebrated her 3rd birthday on Monday, Sept. 3. We had a small party for her on Sunday. She had a good time.
Here are some of my favorite pics from this past weekend. Hope you enjoy...
Lil Bug & The Designer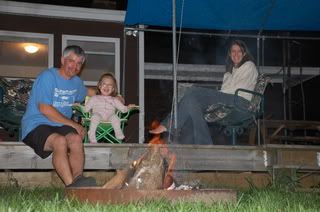 Bumpa, Lil Bug, and The Professor
Lil Princess, Cousin C, Lil Bug (small, medium & large)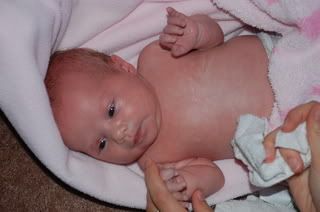 Lil Princess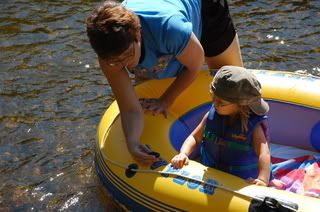 Grandma B with Lil Bug...boat ride
Tummy time (or is it nap time?)
Cousin C
Daddy with his big girl
Bumpa, Grandma B and their beautiful grandchildren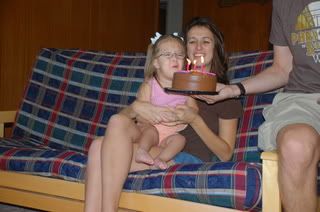 Happy 3rd Birthday, Lil Bug
Yay! MONEY :)
Isn't Lil Princess gorgeous?